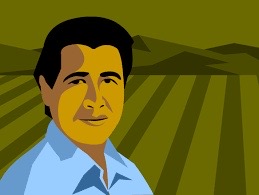 Cesar Chavez was a union leader and civil rights activist. He was 'Chicano' a term that refers to the descendants of Mexicans living in the United States. Many roads, schools, and other institutions bear his name particularly in California and Arizona. During his life he became an icon in the Latino community. His famous expression "Sí, se puede" was used by Barrack Obama in 2008 in his election campaign.
Chavez was born in Yuma, Arizona in 1927. His parents were Mexican farm workers. He was one of six children.  Sadly, his family lost their home during the Great Depression forcing them to emigrate to California in search of work. He had a difficult childhood and his family struggled for years to feed themselves. Chávez had to leave school in the seventh grade to start working in the fields.
At the age of 25, Chavez began to become involved in the labor movement. He encouraged Mexican Americans to vote and organize themselves to have a political voice. In 1962, he helped form the United Union of Agricultural Workers or UFW. He also began to organize strikes with leaders of other minority groups to fight for better working conditions and pay for all.
Chavez believed in a form of nonviolent protest and often fasted for long periods of time in protest. He also began working with another activist who was named Dolores Huerta in the 1970s. Together they held one of the biggest labor strikes ever in the history of the United States!
In 1948, Chavez had married Helen, his high school sweetheart, and together they had eight children. Throughout his life, he remained vegan because he believed in animal rights. Chavez died in 1993 at the age of 66. Today, March 31, his birthday, is known as Cesar Chavez Day and is a state holiday in California, Colorado and Texas.