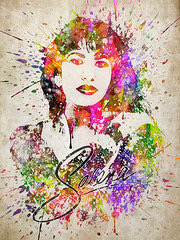 Selena Quintanilla-Pérez was born on April 16, 1971 in Texas. She is known as the queen of Tejano music, which is a combination of music from Texas and Mexico and is very popular among the Mexican-American populations of southern and central Texas.
Selena was the youngest of her family and began singing in public at the age of nine with her older brothers. At the age of 11, she started recording professionally. Culturally, women could not sing Tejano music in the eighties, but Selena was persistent and won a music award in her genre in 1987, an award that she went on to win 8 more times!
In 1992, Selena married her guitarist Chris Perez and they moved to Corpus Christi. A song from her album of the same year, entitled Como la flor, is one of her best-known songs. In 1994 Selena released another album titled Amor prohibido that became one of the best-selling Latin albums in the United States.
Selena was a sensation. She was known for her hair styles and clothes, and began designing and manufacturing her own clothing line and even opened two stores. In 1994, she hired a woman by the name of Yolanda Saldívar to manage the new stores. Unfortunately, this woman stole money from the family and when Selena confronted her, Saldívar shot her. Selena died a few hours later in the hospital.
After her death in 1995, people began to refer to Selena as the Mexican Madonna. In her honor, Texas radio stations played her music non-stop for days. More than 60,000 people attended her funeral and Selena appeared on the cover of People magazine and the New York Times. Two weeks after her death, George W. Bush, then Governor of Texas, declared her birthday Selena Day in Texas because, according to him, she represented the essence of South Texas and its mixed culture.
Image by Aged Pixel