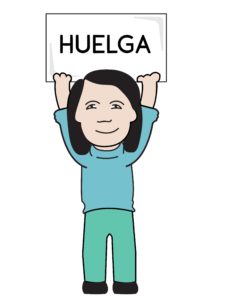 Dolores Clara Fernández Huerta was born on April 10, 1930 in New Mexico. Her grandparents had come to the United States from Mexico. Her father was a coal miner and agricultural worker. Her parents divorced when she was only three years old and she and her two brothers were raised by her mother in Stockton, California. Her mother played an active role in many community organizations. She also helped the migrant farm workers by allowing them to stay in her hotel at low prices. Dolores says of her mother that she was a very generous and compassionate woman.
Huerta began her own community activism while still in high school. She faced discrimination as a Latina growing up in the 1940s and 1950s and was an advocate for equal treatment for all. She trained to become a teacher, but she felt that she could do more by becoming an activist.
In 1962, she cofounded the National farmworkers Association with César Chávez. Together they organized numerous strikes on behalf of agricultural workers from various backgrounds. She also supported bills such as a 1960 bill to permit Spanish-speaking people to receive a driver's license examination in Spanish in California. Like César Chávez, Huerta believed in nonviolent forms of protest. In addition to her work with farmworkers, she has also focused on women's rights and actively encourages Latinas to run for political office.
Dolores is president of her own foundation that she started in 2002. For her activism, she has also received numerous honors and awards including the presidential medal of freedom which she received from President Obama in 2012.
Huerta has been married twice and has a total of 11 children. She was also in a long term relationship with Richard Chávez, the brother of her fellow activist César, until his passing in 2011.